Your patio or backyard may become a chic and practical entertainment area with the addition of outdoor bar lights. Numerous outdoor bar lighting alternatives exist that can improve the appearance and use of your outdoor bar, ranging from subtle ambient lighting ideas to harsh task lighting.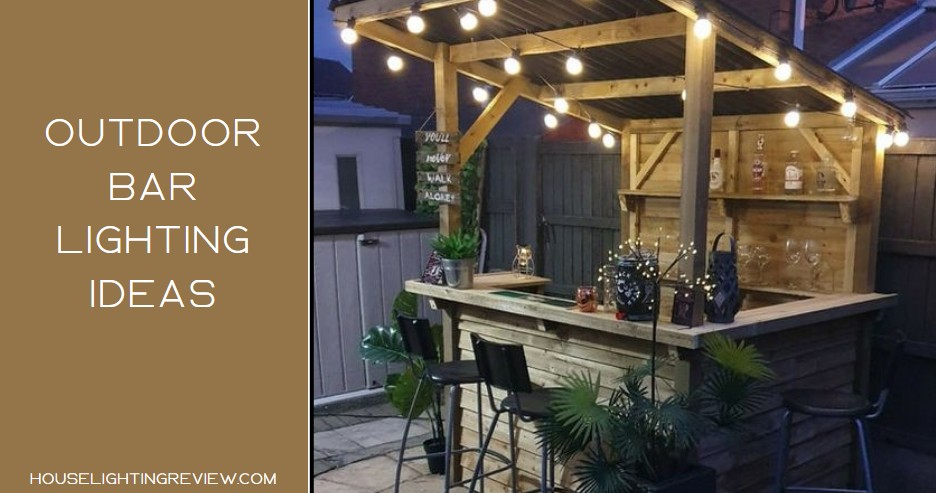 The appropriate lighting can set the scene and guarantee that your visitors have a good time, whether you want to create a cozy setting for small gatherings or a bustling party vibe for larger events. We'll look at some innovative outdoor bar lighting ideas in this article to help you design the ideal atmosphere for your outdoor bar.
Types of outdoor bar lights
There are numerous varieties of outdoor bar lights on the market. Here are a couple of such examples:
Strip lights
They are a common lighting solution for outdoor lights of bars. Strip lighting ideas can be hung from the ceiling space, hung from the ceiling, or wrapped around poles or trees. Globe lights and Edison bulbs, for example, are available in a range of lengths, hues, and shapes.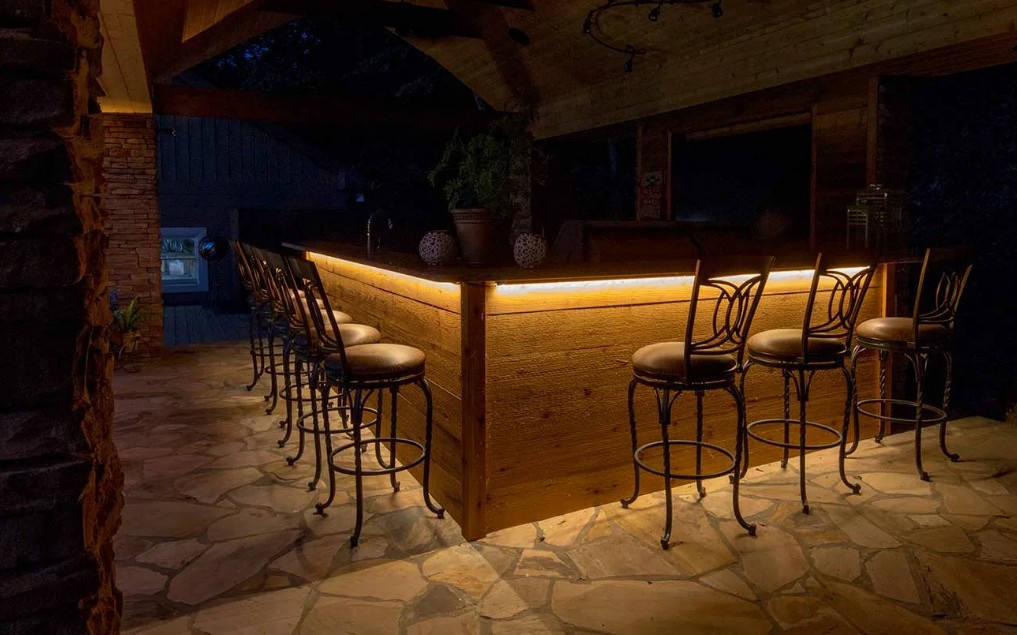 Wall sconces light
Wall sconces are an excellent method to add elegance to your outdoor bar. They are wall-mounted and can offer ambient lighting ideas as well as focused task illumination for specific locations.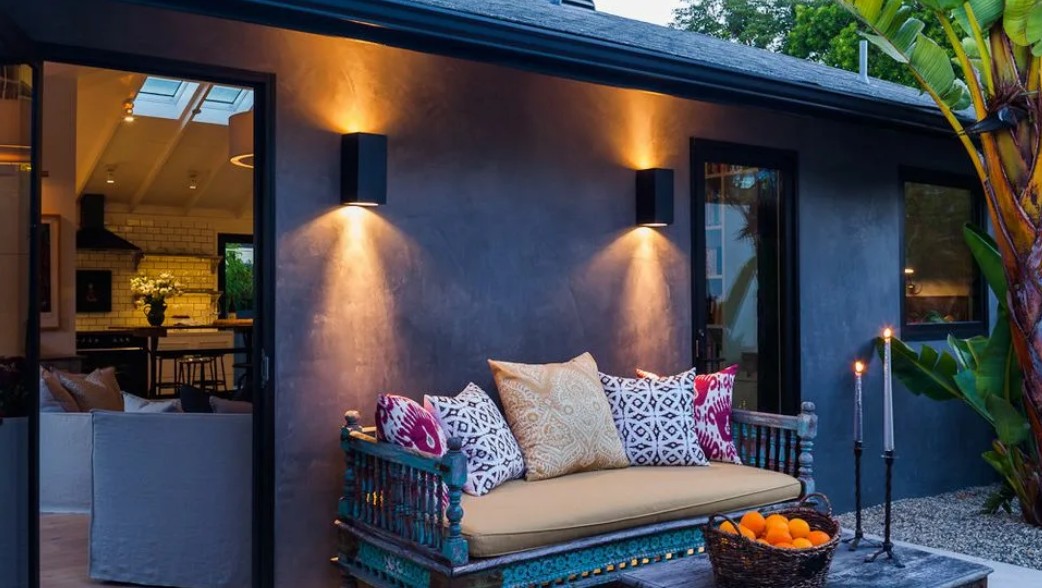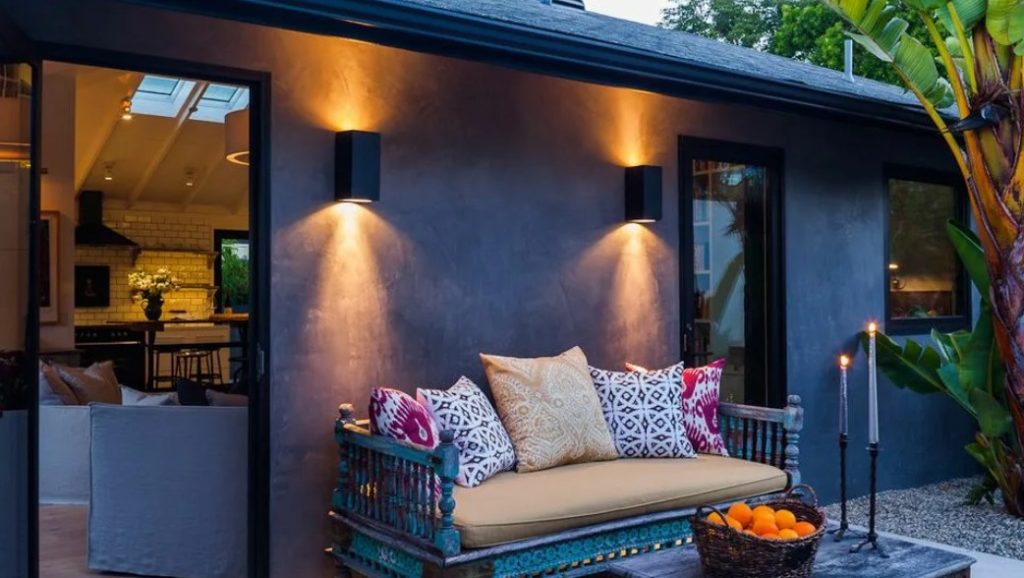 Pendant light
A pendant light is an attractive and functional lighting alternative. These lights can be mounted over a bar or the dining spaces to create direct outdoors lighting activities such as mixing drinks or eating.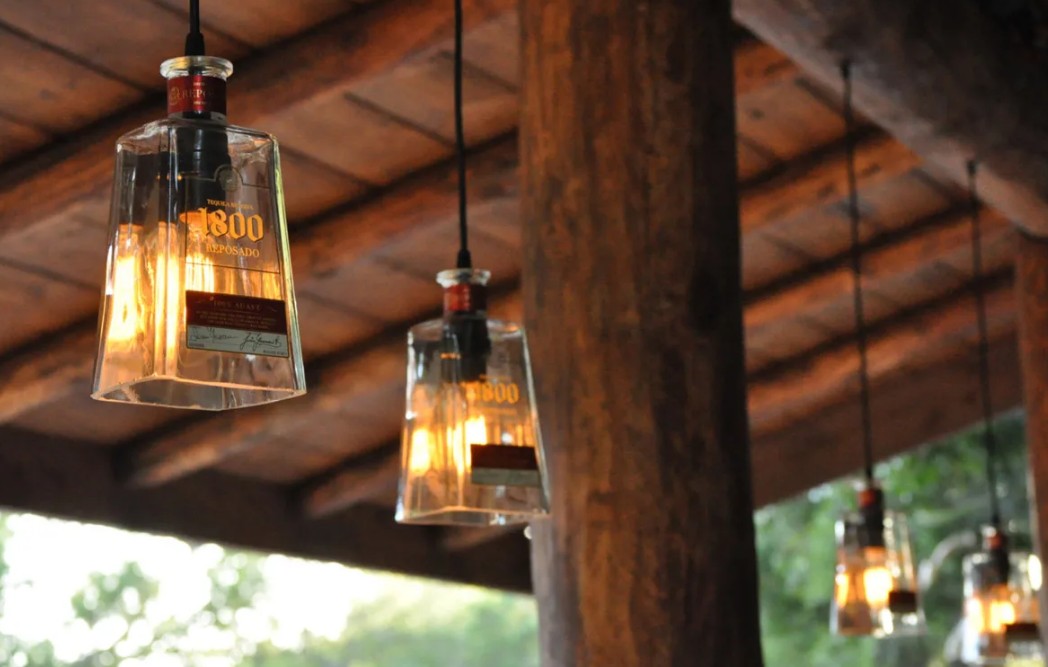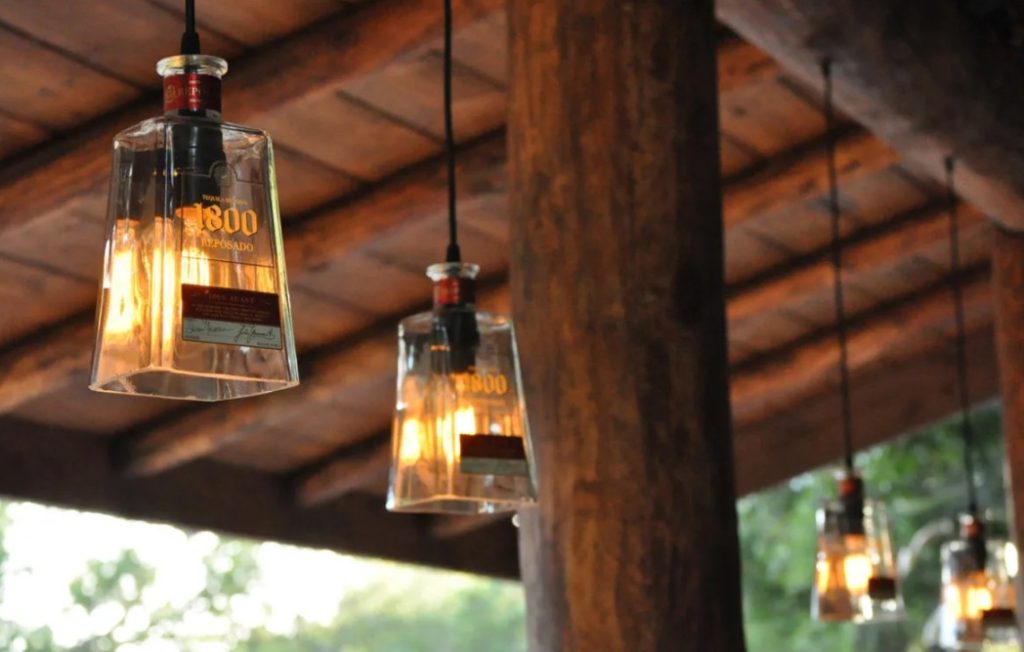 Here are some of the outdoors pendant light designs you might like:
Rustic Lantern Pendant Light
Lights are made to seem like old-fashioned lanterns and can lend a rustic touch to your outdoor bar area.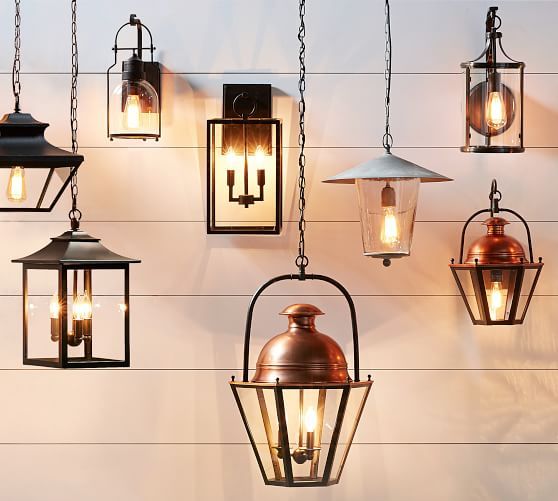 Nautical Pendant Light
Nautical lights are popular in outdoor bars near bodies of water.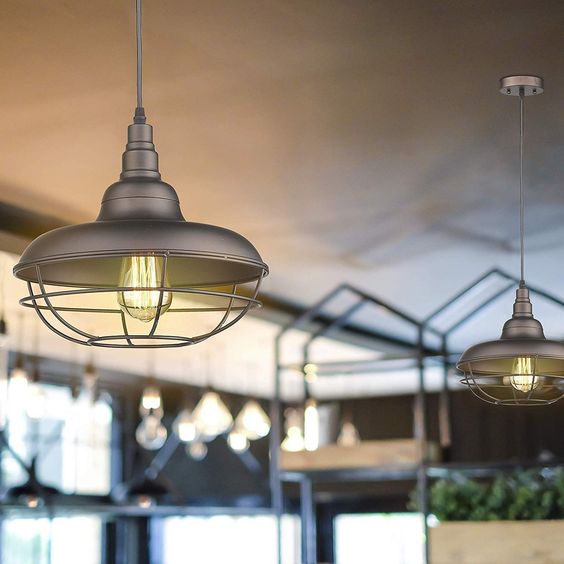 Industrial Pendant Light
Consider these lights made of metal or other industrial materials to bring a touch of modern, industrial style to your outdoor bar area. These lamps typically have a clean, streamlined design and can be customized with various finishes such as brushed nickel or oil-rubbed bronze.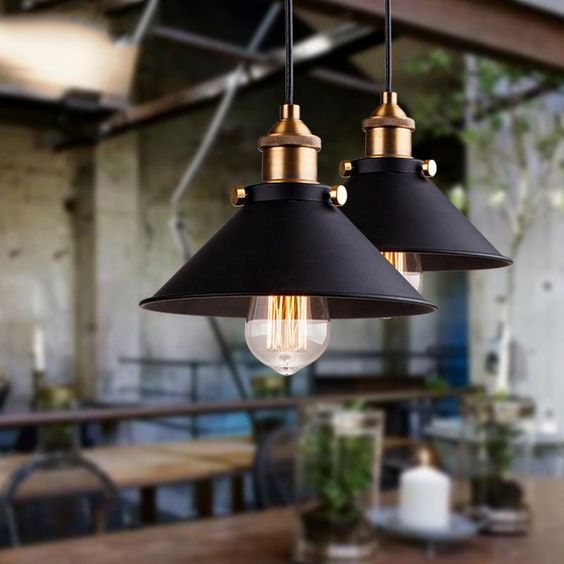 Lights with tinted glass shades can give a splash of color to your outdoor bar area and create a lively, festive ambiance. These lights are available in a range of hues, including blue, green, and red.
Wicker Pendant Light
Wicker lights can give your outdoor bar area a tropical or beachy feel. They are primarily composed of woven wicker and can come in a range of shapes and sizes.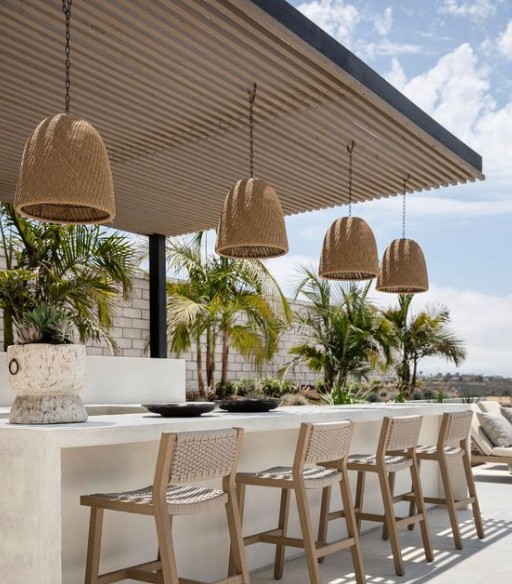 Modern Pendant Light
Consider these lights with a modern design if you want to create a sleek, contemporary aesthetic in your outdoor bar area. These lights frequently have clean lines and geometric designs, and they can be constructed of metal, glass, or plastic.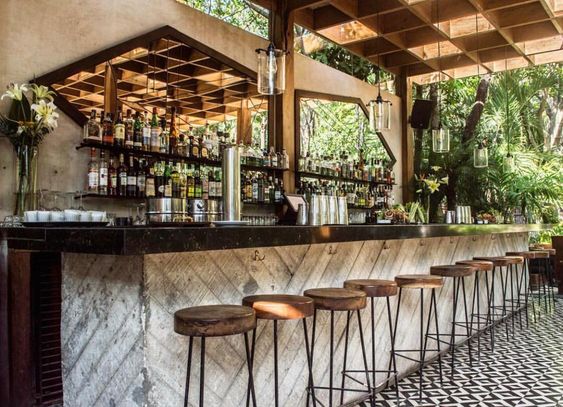 Solar-Powered Pendant Lights
Solar-powered lights are an eco-friendly lighting solution. Solar panels power these lights, which may be charged throughout the day and used to provide illumination at night. They are usually illuminated by LED lights and available in a range of forms and designs.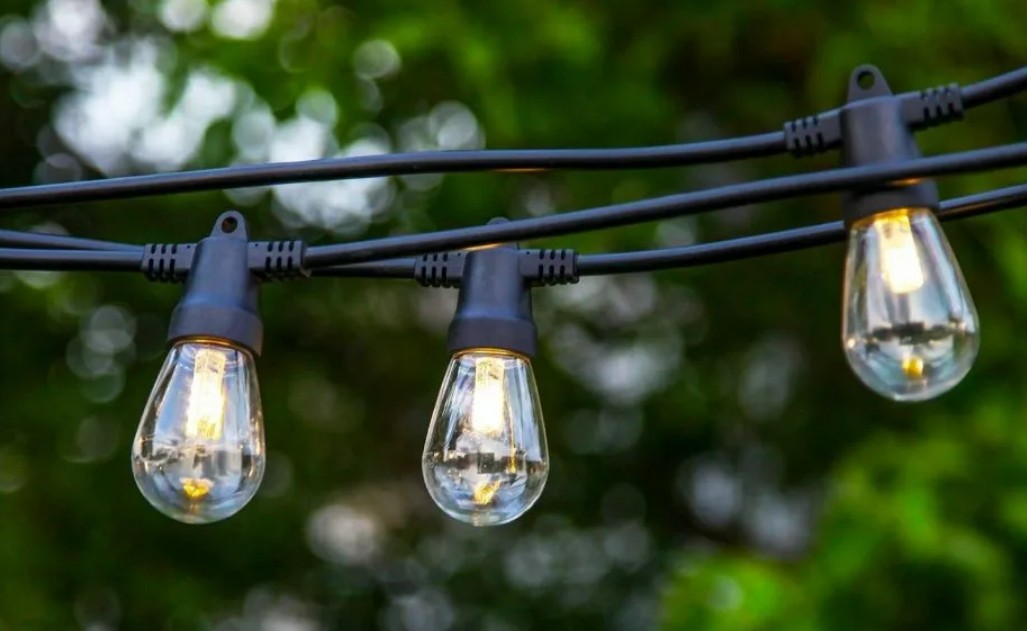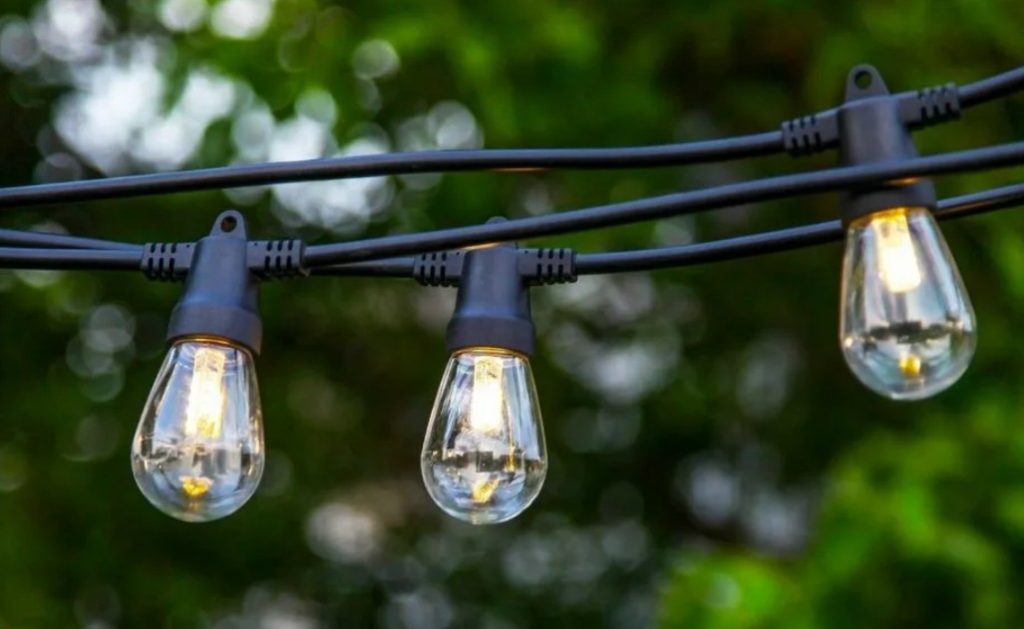 Tiki torches
They are a festive and exciting way to create a nice night bright outdoor atmosphere and to light up the outdoors. They are available in several styles and can be powered by oil or gas.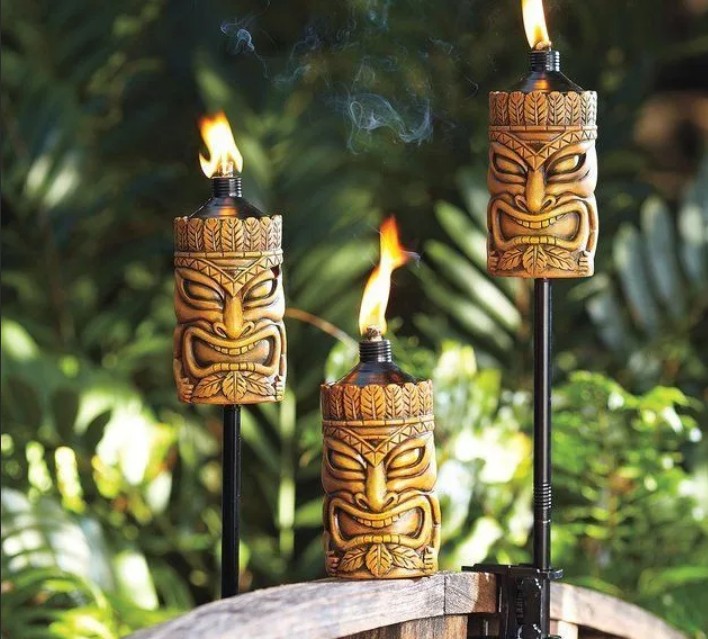 Pathway lights and light fixtures
They are a practical method to illuminate walks and entrances to your outdoor bar. Light fixtures are available in various forms, including solar-powered lights and low-voltage LED lights.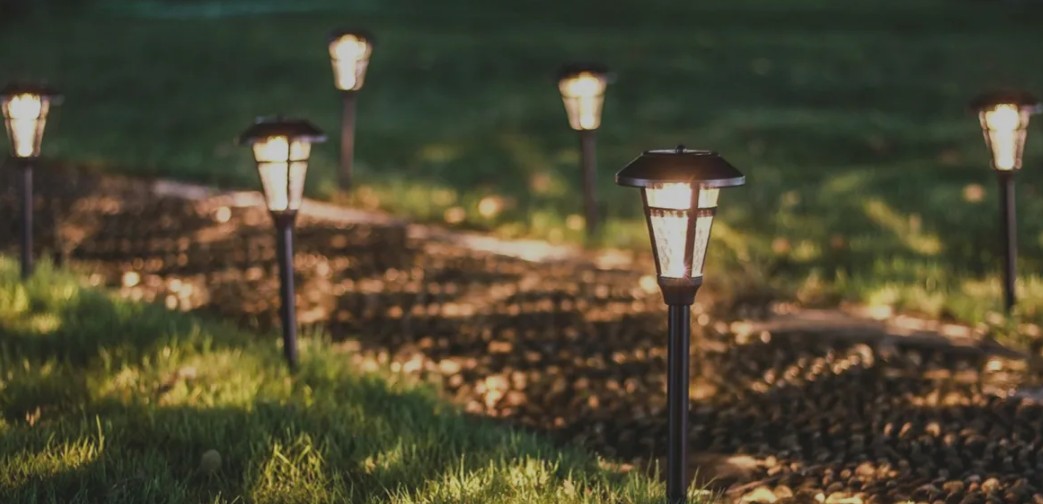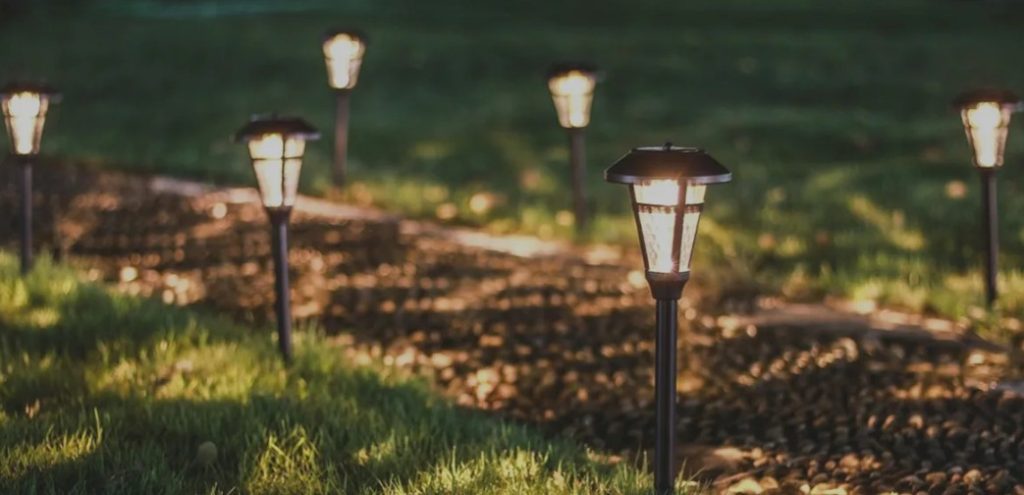 Floodlights
They are a powerful lighting solution that can create and illuminate enormous light areas surrounding your outdoor bar like a fire pit. They are frequently employed for security or safety reasons.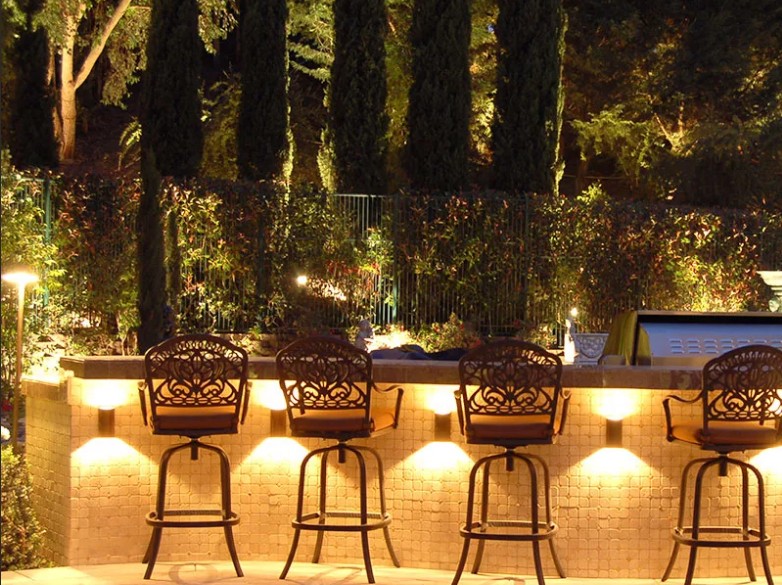 Under-counter lighting is an excellent method to add task lighting to your outdoor bar. They can be positioned beneath the bar or shelves to offer direct lighting for chores such as lemon or lime cutting.
FAQ
What should an outdoor bar have?
Your patio or backyard can benefit greatly from the addition of an outdoor bar style of the backyard, which will create a location for gathering and entertaining nights. The following are some elements that an outdoor bar ought to have:
Bar counter: The focal point of any outdoor bar style is the bar counter. It should be big enough to fit all of your guests and provide you with room to set up a bar and serve food.
It may be constructed from a variety of materials, including metal, stone, or wood.
Bar stools: Bar counter seating requires the use of bar stools. They ought to be resilient to weather conditions, cozy, and strong. Choose stools that are easy to clean and resistant to the elements.
Lighting: It's crucial to have outdoor lighting to make a space feel welcoming and to keep people safe at night for evening gatherings.
Consider putting up lanterns, string lights, or other outdoor-friendly lighting options.
Refrigeration: For storing drinks and food, having a refrigerator or cooler close by can be useful.
Choose a refrigerator or cooler that is made for outdoor use and capable of withstanding a range of temperatures and environmental factors.
Bar accessories: The essential bar accessories, such as a cocktail shaker, ice bucket, bottle opener, and glasses, should be included at a well-stocked outdoor bar.
The bar counter or an adjacent cupboard or shelf are both suitable places to keep these accouterments.
Entertainment: To create a lively and engaging atmosphere, think about including some entertainment features, such as a sound system, TV, or games like cornhole or darts.
In general, an outdoor bar should be cozy, practical, and built to endure outdoor space elements.
You may design a room that is ideal for entertaining and spending time with friends and family by integrating these necessary elements.
How do I illuminate the outside of my house?
Enhancing your home's outside lighting can increase the aesthetic appeal, safety, and usability of outdoor areas.
Here are some suggestions for lighting your home's exterior:
Identify your lighting requirements: Consider your demands before you begin designing your outdoor lighting space.
Do you require illumination for security and safety, or just for looks? Do you wish to highlight particular elements of your house or landscaping space?
Choose your lighting: Wall sconces, post lights, spotlights, and path lights are just a few of the various outdoor lighting options available.
When selecting light fixtures for your home space, consider the architectural style of the building.
After selecting your fixtures, determine where you want to position them in your lighting system.
Aim for a balanced and even dispersion of light by taking into account the angles and directions of the light.
Use several lighting techniques: Accent outdoor lights, downlights, and up string lights can all be used to add depth and visual appeal.
This can draw attention to various elements of your house and yard, such as trees, sculptures, or architectural details.
Think about energy efficiency: Make use of energy-saving lighting devices and bulbs, such as LEDs, which can reduce your energy costs and outlast conventional bulbs.
Install lighting controls: To have your lights switch on and off automatically, create a lighting control like timers or motion sensors. This could increase security and improve energy efficiency.
Consider contacting a professional electrician or lighting designer to design the entire space if you are unclear about how to install outdoor lighting or want to be certain it is done safely and correctly.
Overall, strip lighting up the exterior of your home can be a terrific method to improve both its appearance and practicality.
You may develop an effective lighting plan that matches your demands and improves your outdoor living spaces by using the advice in this article.
What lighting is best for outdoor lighting?
The needs and tastes of your outdoor space will determine the ideal outdoor bar lighting ideas for that area.
The following are some common lighting types for outdoor lighting:
LED lights: Due to their energy efficiency, durability, and availability in a wide range of colors and styles, LED lights are a popular option for outdoor bar lighting ideas.
They can be used for accent lighting, route recessed lighting, and flood strip lighting, among other outdoor lighting applications.
Solar outdoor lights: They are an excellent choice for outdoor bar lighting ideas in regions with lots of sunlight because they are solar-powered.
They don't need energy or wiring and are simple to install.
Halogen lighting: Halogen decorative lighting is strong and brilliant, making it an ideal option for floodlighting or outdoor space security lighting fixtures.
They can cost more to operate and are not as energy-efficient as LED lights.
Traditional outdoor bar lighting ideas include incandescent lights, which are less energy-efficient than LEDs and have a shorter lifespan.
Low-voltage lights: They are a type of LED lighting that runs at a lower voltage than conventional lighting, which makes them safer and more energy-efficient to use.
The purpose of the lighting, the size, and configuration of your outside space, as well as your budget, should all be considered when choosing outdoor bar lighting ideas.
To make sure that your outdoor bar lighting ideas are both useful and safe, it's a good idea to select bright lighting fixtures that are weather-resistant and made for outdoor space usage, as well as to follow the correct installation and safety requirements.
Conclusion
For your patio or backyard to be a comfortable and useful entertainment area, outdoor bar ideas lighting is crucial.
You may improve the ambiance of your outdoor bar lighting and provide your customers with a cozy and welcoming environment by using the correct outdoor bar lighting.
There are a variety of outdoor bar lighting ideas available, from lanterns and string lights to spotlights and task lighting, to meet your requirements and preferences.
The appropriate outdoor lighting ideas can make all the difference, whether you're trying to draw attention to a particular aspect of your outdoor bar or establish a warm and inviting ambiance.
So, spend some time looking over several outdoor bar lighting options before selecting the ones that best fit your needs and sense of style.
Your outdoor bar lighting ideas may become a chic and useful entertainment area that you and your guests will enjoy with the correct illumination.