It's a great tradition to set external ornaments and hang outdoor lights for Christmas, Halloween, birthday parties, or even for everyday jolliness. But making holes in the walls will damage the surface, which may entail further inconveniences.
Are you looking for a way to get a bright and festive exterior without drilling holes and nailing? So are we.
Below are the best ideas on how to decorate your patio and yard with lights without nails. Choose the one for your money and preference.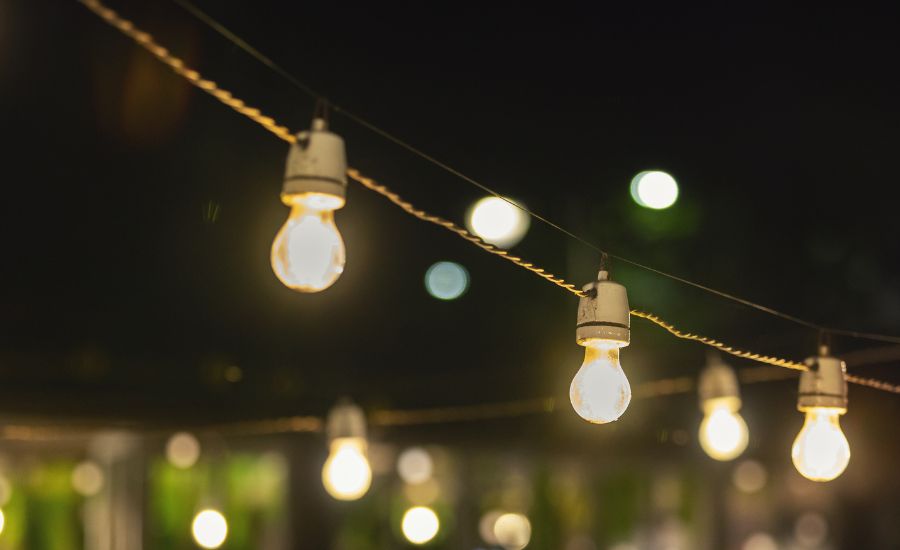 Fastening on the cover or roofing
One of the preferable ways to hang patio lights without nails is to adjust them to the roofing, in the first turn, to the aluminum patio cover or gazebo.
A structure itself normally has enough vertical joists, hanging points and fixtures to hang outdoor lights without additional drilling holes and nails.
There is no need to buy and attach extra holders when you hang patio string lights on the aluminum patio cover. Another plus point is that the patio cover or roof protects string light from all kinds of weather.
Hanging on trees and bushes
It's as simple as pie to fix outdoor string lights on the trees and bushes. If you want a better fixation, zip ties are the easiest solution. This way is quick and cheap, you can replace or remove light strands without any fuss.
However, hanging string lights on the tree, you should know that they sometimes grow into the trunk and therefore need repositioning from time to time.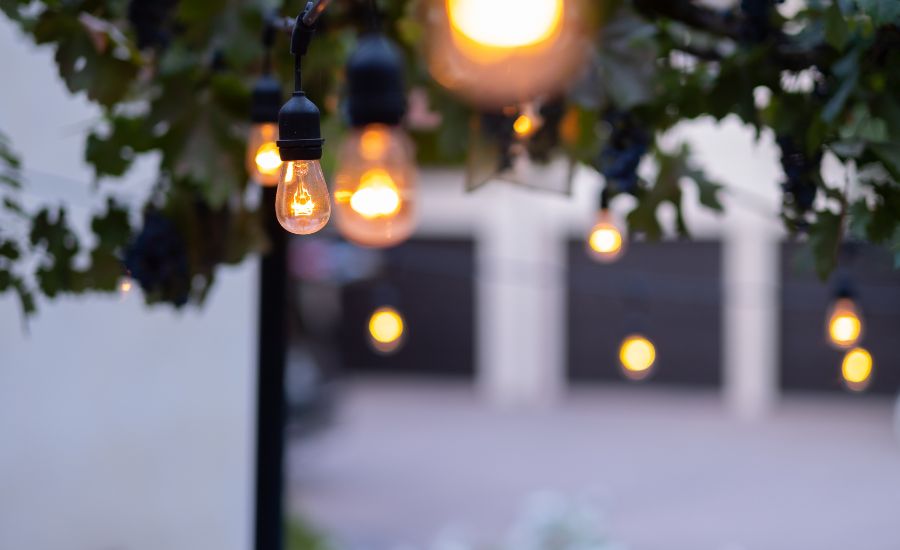 Wrapping around banisters and posts
If your house or a patio has a porch with banisters or posts, those can well suit for hanging outdoor string lights.
Just wrap your lights securely around beams, and there you have it. The small and non-heavy string light is the best choice here. If needed, use some tape or hot glue for fixation.
Draping on the fence
Drape your outdoor patio lights on the fence or trellis if you have one.
Thus, you will easily hang patio lights without nails and create great ambient lighting for the outdoor space.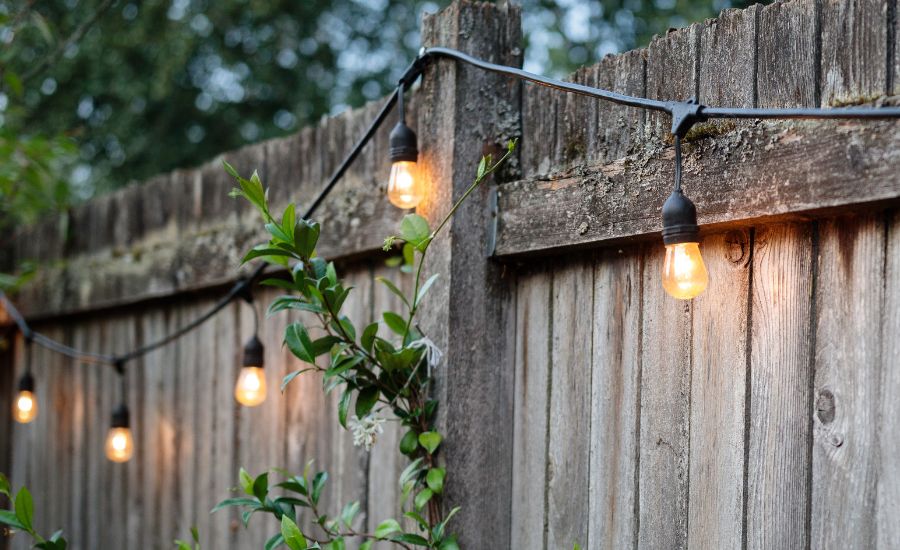 Siding hangers
If you have vinyl siding, there is a choice of siding hangers ideal to hang patio lights without nails.
With different materials and sizes, easy mounting and good grip siding hangers provide a great option for fixing patio lights without nails and drilling holes.
Brick clips
If you have brick walls with a matchable design, brick clips are just what you need to arrange outdoor patio lights without nails.
Brick clips perfectly hold on to brick and inflict no damage on the surface. These clips have a hook or two that are very suitable to hang patio string lights.
Alumahooks
If you are after a neat, stylish, and very reliable option to hang patio lights without nails, and you are ready to spend a certain amount on this, alumahooks may be right what you want.
Alumahooks suggest a variety of sizes, colors, and shapes and can be easily moved to different hanging points. They are quite good for light-weighted lights and for heavier lanterns and other objects.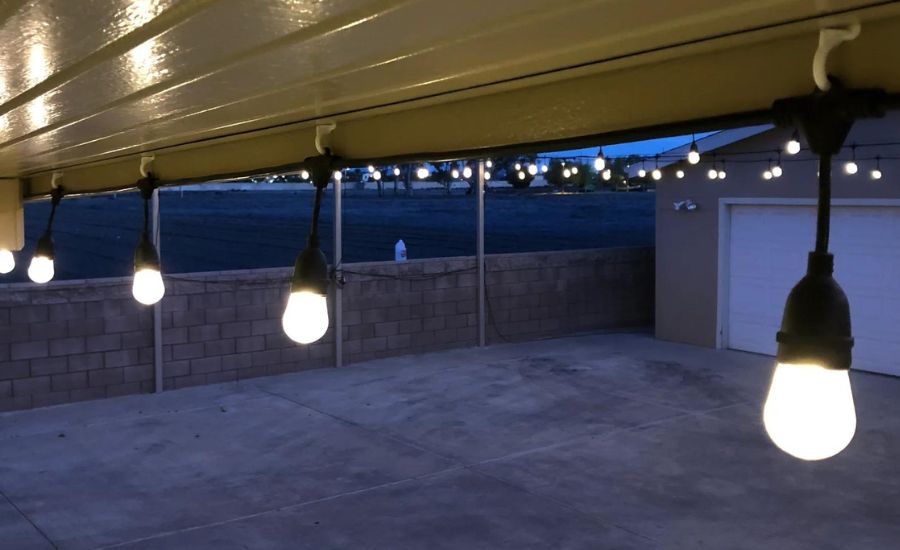 Gutter hooks
If your house has gutters, you can use them to adjust gutter hooks for hanging patio lights without nails.
Gutter hooks are usually plastic or aluminum and have the shape of the letter S. One side of the gutter hooks is clipped to the gutter and the other one is used to hang outdoor patio lights.
You can fit gutter hooks to hang string lights or lanterns, as per your choice.
Adhesive-backed hooks
Adhesive hooks are another way to fix patio lights without nails.
The hooks are suitable for most surfaces, but a smooth one is preferable. Adhesive-backed hooks will not work that well with bricks, concrete, and stucco. They have some binding agent at their backside, and you need to press down to attach them to the surface.
Adhesive-backed hooks may be metal or plastic, have various sizes, and can hold lighter and heavier items.
Also, watch for a product applicable to outdoor space with wet conditions and different temperatures.
A considerable drawback of adhesive-backed hooks is that some leave an not washable residual on the walls and spoil the surface.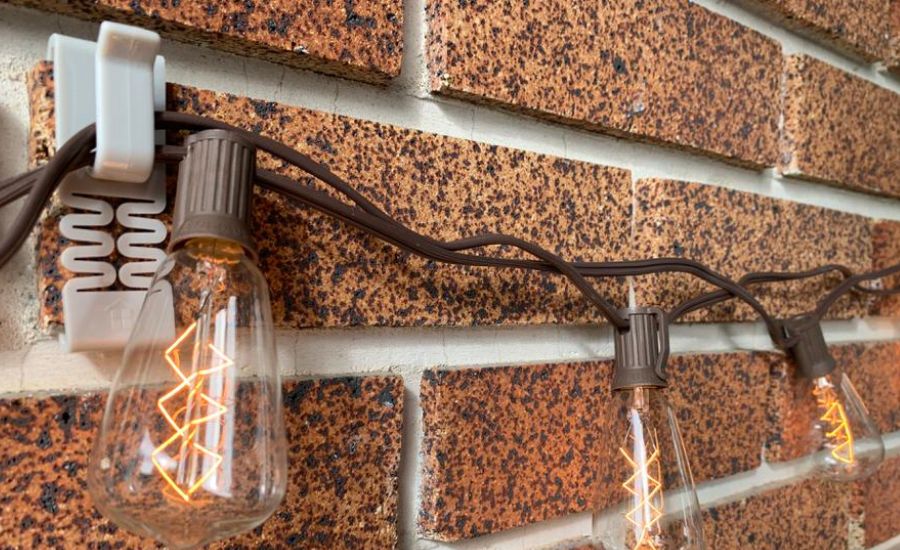 Sticky tape
Tape for outdoor use will optimally do for securing external lights.
You can use regular tape or prefer a double-sided one, but anyway, look for the strongest type.
This way is cheap and simple, but your decorations will not hold for a long time. Sticky tape can be good for seasonal ornaments, i.e. if you want to hang Christmas lights.
Suction cups
If you need to hang outdoor patio lights on the window or any other flat surface, consider a variant with suction cups.
These are easy to replace, and you can create any shapes with them, from Valentine's hearts to snowflake Christmas lights without nails.
Glue
Another option to hang outdoor patio lights without nails is using a hot glue gun.
With acrylic glue, you can stick outdoor lights securely.
The flip sides are that you have to hold the thing until the glue dries, which is not too long, but still tiresome, and that when removing the lights one day, you will need to clean the glue from the surface.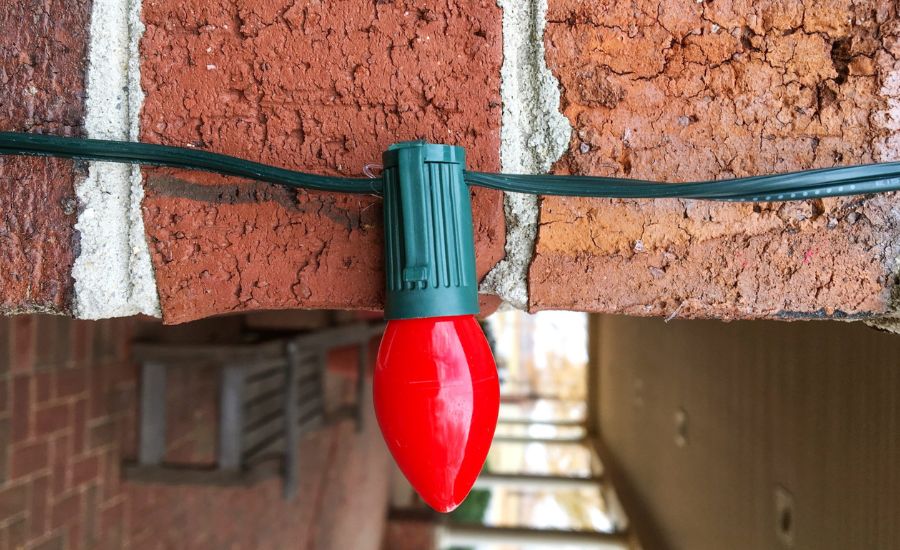 Staples
If you are dealing with wooden walls and don't mind tiny holes in them, you can regard staples as an option to hang outdoor patio lights without nails.
It won't take long to hang string lights with a stapler. It provides a good hold and minimal damage.
Creative approach
You can turn on your creativity and use any other surface and appliance to hang the lights outdoors.
Wrap them around any everyday object, hang them on a fishing line, fix them on old wire hangers, etc. Sometimes the wildest and most unexpected ideas show to advantage and look aesthetically pleasing.
A few tips on your outdoor patio lights
Whichever way to hang lights you've chosen, be sure to keep all the cords and wires out of sight so that nobody trips over them.
When hanging patio lights, be sure to fasten them high enough not to cling to people's heads. The recommended height is about nine to ten feet.
If using electric patio lights, make sure to place them within a measurable distance of the plug.
Try LED outdoor lights. They don't need a plug and extension cords. Besides, they use clean energy and last for a long time.
When buying patio string lights, calculate in advance how many string lights you'll need and add one odd strand for reserve bulbs.
For your outdoor patio lights, choose a place where they are well-visible and can delight you and your companions.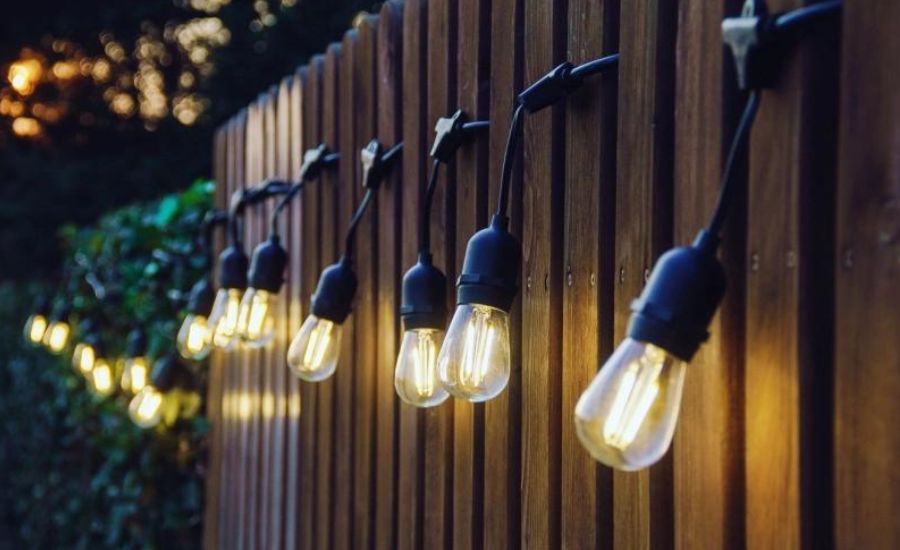 Conclusion
Decorating your outdoors and patio does not necessarily claim to use a hammer and nails or drilling. It does not always cost a fortune.
There are ways to make all kinds of ornaments and lighting strings and create comfort and a cheerful mood around your home. Use our ideas or get creative and make your own masterwork that will bring joy to you and your loved ones.
FAQ
How do you string lights without nails?
You can decorate your home with lights, even without nails.
Any object in the patio can be wrapped or draped with the strands of light: a fence, trellis, gazebo, trees, shrubs, potted plants, posts, and banisters.
You can attach the gutter of alumahooks to the gutters, joists, and other applicable parts of the house or patio.
A glue gun is almost a universal thing working with most surfaces.
Sticky tapes and a hook with an adhesive back will let you do without holes.
A suction cup can help fix a colorful strand toward smooth surfaces.
You can as well use a stapler with wooden walls, but note that it will leave tiny holes in them.
How do you hang outdoor lights without damaging siding?
If you don't want any holes in your siding, here are optional ways to hang lights in the yard.
You can use siding hangers for vinyl siding or brick clips for bricks.
Sticky tape and hot glue will also go for hanging lights.
Hooks with adhesive back, gutter, or alumahooks are worth the whistle.
Of course, don't forget the trees, pots, and other patio objects that can be used as the base for a lantern or light string.
How do you hang outdoor string lights without posts?
If you have no posts, trees and shrubs can provide great support for the light bulbs and strings.
Consider your fence, pergola, and trellis for draping, aluminum roofing and covers have enough fixation points for hanging and secure easy removal of light decorations.
Mind all kinds of hooks, clips, and hangers (adhesive, plastic, and aluminum), sticky tapes, and a glue gun to hang the desired lights with no nails or holes.
How do you stick lights to an outdoor wall?
If you want to avoid holes from nails, there are still variants to choose from.
Gutter hooks and alumahooks are movable and leave no residue on the walls.
Brick clips, staples, and siding hangers are also quite good, but are only suitable for certain surfaces.
Adhesive-backed hooks, sticky tape, and a glue gun are also popular ways to hang light strands on the outdoor wall of your house.