So there you are, sitting on your deck at dusk, enjoying the cool evening air. You flip on those fancy new LED lights you install, hoping to extend the day and your time outside.
But within minutes, you notice a few spiders coming out of the woodwork, literally, and dangling from the eaves and beams.
What's the deal? Did those energy-efficient lights you splurged on turn your outdoor oasis into an eight-legged meet and greet?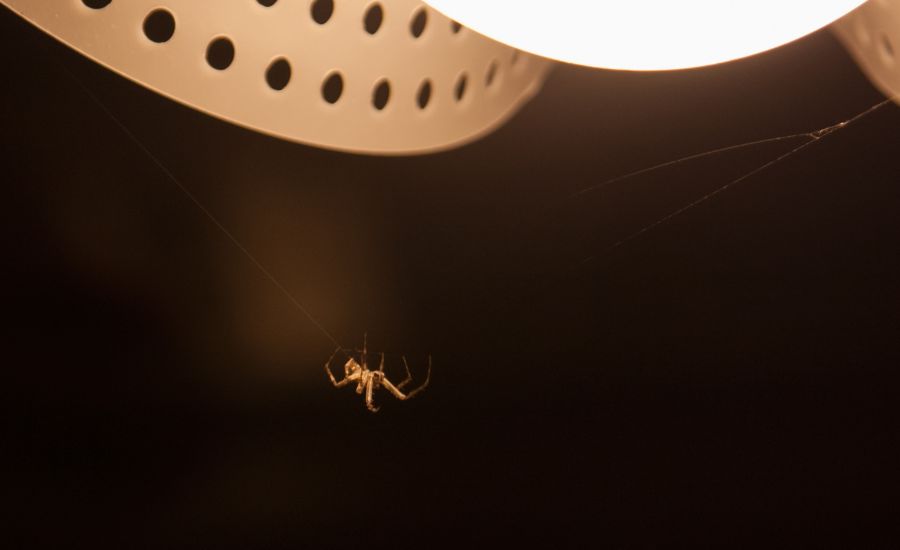 The truth is, LED lights can attract some insects and arachnids, but not necessarily more than other types of lighting. Here's what you need to know about LEDs and their effect on our eight-legged and six-legged friends.
Do LED lights attract spiders: the science
LED lights are a popular choice for home lighting, as they're more energy-efficient than traditional incandescent bulbs.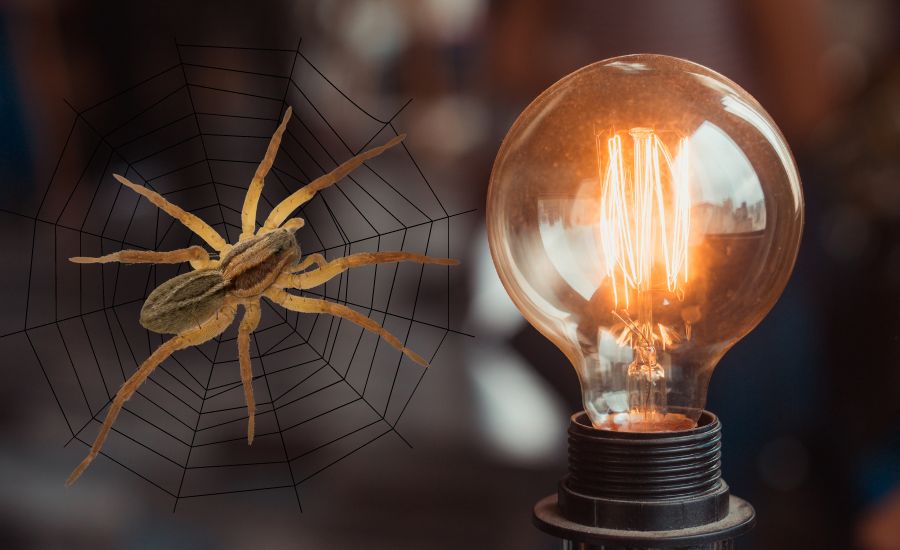 So, do LEDs attract more spiders and insects? The science says not necessarily.
You may have heard that LEDs attract spiders and other insects.
The truth is, it's not the LED lights themselves that attract the spiders. Rather, it's the wavelength of light that LEDs emit that some spiders and insects are drawn to.
LED light doesn't emit UV light, unlike traditional incandescent bulbs. And many bugs are drawn to ultraviolet light. So LED light alone probably won't directly attract insects.
However, LED light does emit visible light that some nocturnal bugs may navigate by, like moths. And where there are bugs, there are spiders. So if LED lights attract insects, more spiders may follow seeking a meal.
The color temperature of the LED lights also matters. Warmer, yellower shades like 2700K may attract fewer insects than harsher, bluer 6000K tones. So choose your color wisely if bugs bother you.
The intensity and direction of the LED light play a role too. Brighter light, especially if not properly diffused or shielded, creates more opportunity for attraction. As does light that spills into natural hiding spots, like under decks or behind shutters.
In the end, the type of LED light fixtures and how the light bulb is installed will impact attraction more than the LED lights themselves. Proper shielding, diffusing, and angling can help prevent providing an all-night dinner for our eight-legged friends.
With some basic precautions, you can enjoy the benefits of LED lights without unwanted guests. Sweet dreams!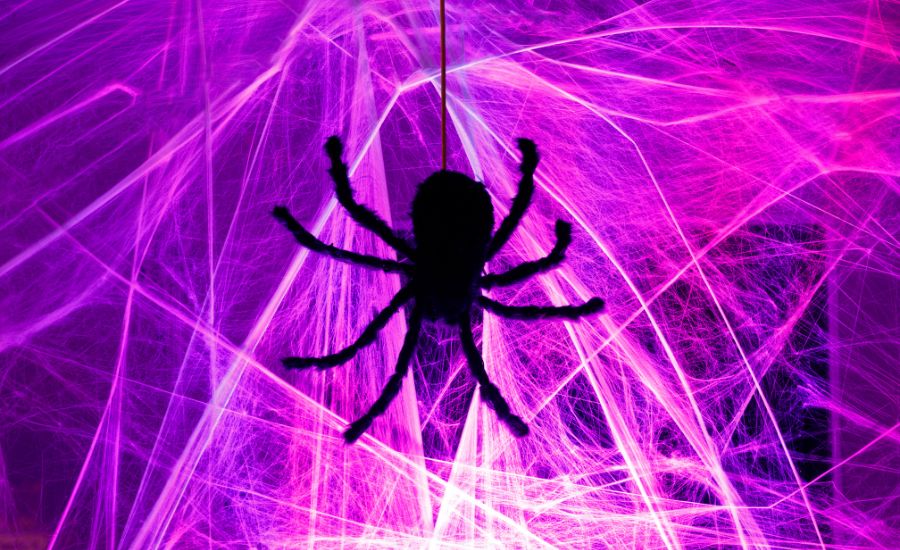 Why spiders are drawn to lights
Spiders are naturally drawn to lights for a few reasons.
Their eyes are highly sensitive to bright lights and movements. LED lights emit UV radiation, which attracts spiders because the light emitted at the wavelengths that spiders can see clearly. The flickering or humming of lights also catches their attention.
LED lights attract bugs and other flying insects that spiders feed on, like moths, mosquitoes, and flies. So spiders build webs near lights, hoping to catch an easy meal.
Female spiders in particular are often attracted to light when they're looking for mates. The lights make them more visible to potential suitors. After mating, the female spider will make her way back to her web near the light source.
While spiders themselves are harmless to have around, their webs and droppings near entryways and porches can be annoying.
Even if LED lights don't emit UV radiation, in particular, they tend to attract more spiders and bugs. These wavelengths are similar to the light given off by the moon and other natural light sources that spiders and some insects use to navigate at night. The LED strip lights act as a beacon, drawing the spiders and insects in.
Installing yellow "bug" lights, sodium vapor lights, or LEDs in the yellow-red range can make areas less attractive to spiders and other insects.
So switching up your lighting options may help convince the spiders to build their webs elsewhere.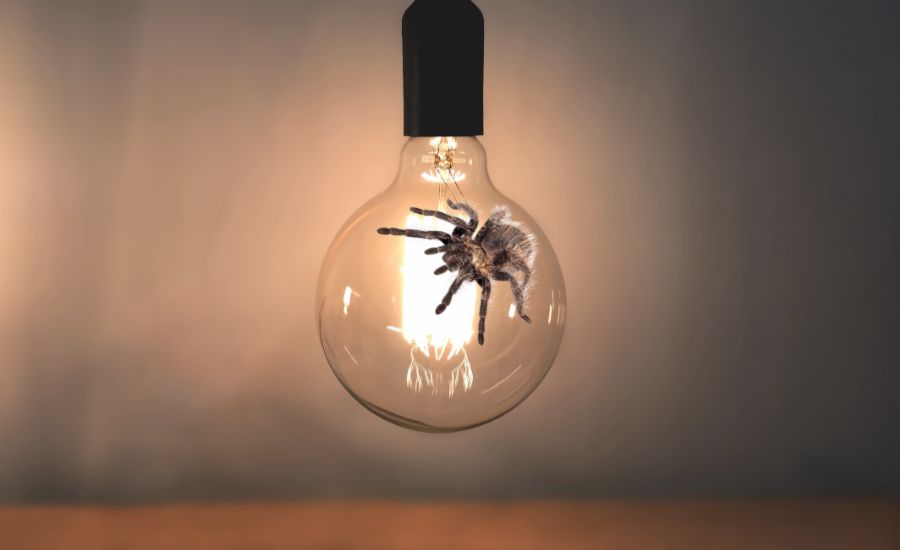 How to reduce spider attraction to LED strip lights
The bright glow from LED lights attracts insects that hunt by sight. Turn off any outdoor LEDs, spotlights, floodlights, and other light bulbs when not in use.
Use motion-activated lights instead, so they're only on when needed. If keeping some lights on for safety, choose ones with built-in shields or hoods to direct the light downwards.
Use non-attracting colors
Spiders attracted to light blue and white LEDs. Swap out blue-hued spotlights for amber, yellow, or red ones.
For string lights, choose "warm white" rather than "cool white."
LED lights in the colors red and yellow will attract fewer insects while still giving you light. Avoid using halogen, CFL, or incandescent bulbs since these types of illumination are more likely to draw insects, which will then draw spiders.
By taking a few proactive steps to modify lighting, selecting less attractive LED light bulbs color, and sealing up entryways, you can enjoy the energy efficiency of LEDs without undesirable spider infestations.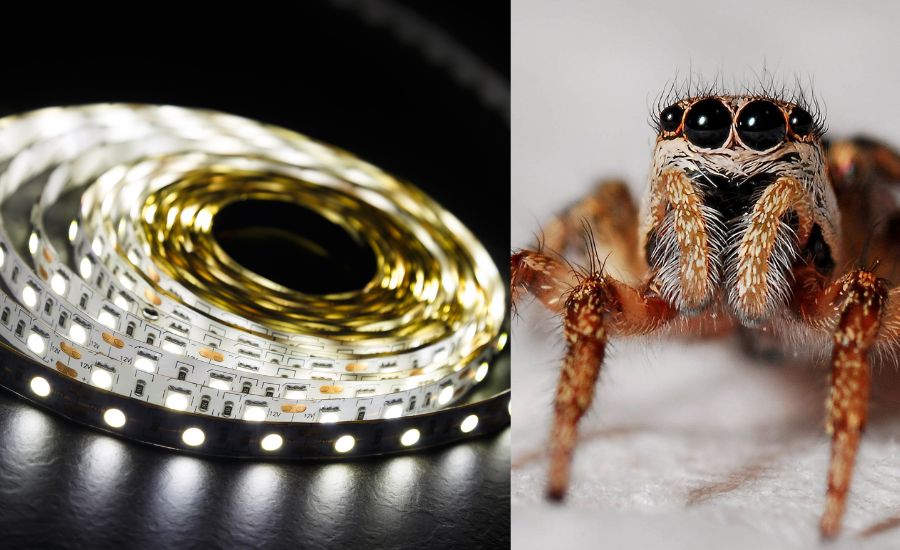 FAQ
What color LED lights attract spiders?
Insects are colorblind but they are sensitive to light at green wavelengths. Green colors attract spiders but keep bugs away. Other bugs prefer bright colors. While green is attractive to spiders, it acts as a deterrent to their potential food.
What bugs do LED lights attract?
LEDs themselves don't attract bugs, so keep them lit up. There probably won't be as many spiders or insects attracted by warm white or soft white LED lights that have more yellow tones.  LED strip lights emit light at wavelengths that are less similar to a natural light source.
What lights keep spiders away?
Using LED lights with a yellow light at a color temperature of 2700 to 3000 Kelvin is less likely to attract spiders and bugs compared to the higher blue-toned LED strip lights of 6000 Kelvin or higher. 
Yellow LED lights may not completely repel spiders, but they can make your LED lighting installation less attractive to them. So, you can install LED lighting inside or outside!
Do LED strip lights attract bugs?
The short explanation is that although LED lights attract bugs like moths, spiders are not drawn to the lights themselves. Since LED lights are cooler than other light bulbs and thus not as heated, bugs are generally not attracted to these types.
So while the LED light source itself is not directly attracting insects, the color light type of light it emits can make a difference.
Choosing LED lighting with a warmer, more yellow tone and avoiding those with harsh blue light wavelengths may help reduce how many eight-legged friends come calling.
But ultimately, spiders do like to build webs in corners and crevices to catch food, regardless of the light source. 
The best way to avoid spider webs in and around your home is to practice good housekeeping like vacuuming, dusting, and keeping a tidy space.
Conclusion
So, there you have it, the current scientific consensus on do LED lights attract spiders.
While some early research suggested LED strip lights might be more attractive to spiders due to the wavelength LED lights emit, further studies have found little evidence to support those claims.
But based on what we know so far, you can feel confident switching to more energy-efficient LED lights in and around your home.
The spiders in your area are likely to remain unbothered and continue spinning webs and catching insects, with or without the LED lights glow.